Tony Hendra, a humorist whose wide-ranging résumé included top editing jobs at National Lampoon and Spy magazines and a zesty role in the mockumentary "This Is Spinal Tap," died on Thursday in Yonkers, N.Y. He was 79.
His wife, Carla Hendra, said the cause was amyotrophic lateral sclerosis, often known as Lou Gehrig's disease, which was first diagnosed in 2019.
Mr. Hendra, who was British but had long lived in the United States, began writing and performing comedy while a student at Cambridge University, traveling in the same circles as future members of the Monty Python troupe. In 1964 he and his performing partner, Nick Ullett, took their stage act to the United States, and from there he fashioned a steady if peripatetic career doing stand-up comedy, writing and editing for various publications, acting and publishing books.
One of those, "Father Joe: The Man Who Saved My Soul" (2004), was his account of his long relationship with a Benedictine monk named Joseph Warrilow, who, he wrote, had helped ground him through personal setbacks and instances of moral turpitude and led him back to an appreciation of the Roman Catholic faith of his childhood; as he put it late in the book, "The spiritual muscles I hadn't used for decades began to acquire some tone."
"Father Joe" received glowing reviews. Andrew Sullivan wrote in The New York Times Book Review that it "belongs in the first tier of spiritual memoirs ever written."
But it had at least one detractor: Jessica Hendra, Mr. Hendra's daughter from his first marriage. She submitted an unsolicited Op-Ed essay to The Times stating that Mr. Hendra had sexually abused her on several occasions when she was a girl, something not mentioned in his book. The Times didn't publish the essay, but instead assigned an investigative reporter to look into the accusation.
A month after Mr. Sullivan's review, the newspaper published an account of her allegations under the headline "Daughter Says Father's Confessional Book Didn't Confess His Molestation of Her."
"It's being seen as completely confessional, totally honest, the whole story," Ms. Hendra, who was then 39, told the paper. "It's not the whole story. By not saying anything, I felt I was being complicit in it. This book is an erasing of what happened to me."
In 2005 Ms. Hendra published a memoir of her own, "How to Cook Your Daughter," in which she recounted what she said had been done to her. Mr. Hendra denied her accusations.
Anthony Christopher Hendra was born on July 10, 1941, in Willesden, England, northwest of London. His mother, he wrote in "Father Joe," was a "good Catholic" but "didn't allow the precepts of the Gospels and their chief spokesman to interfere much with her daily round of gossip, bitching, kid-slapping, neighbor-bashing, petty vengeance, and other middle-class peccadilloes." His father was not Catholic but because of his job — he was a stained-glass artist — "spent far more time inside churches and knew far more about Catholic iconography than his nominally Catholic brood."
Mr. Hendra attended St. Albans School, in southeast England, and was intent on becoming a monk when, he wrote in his memoir, Father Joe advised him instead to accept the scholarship he had been offered at Cambridge. There he became less preoccupied with religion and more interested in satire. By 1961 he was performing with the Cambridge Footlights theatrical group, doing comic routines in its annual revue as part of a cast that included John Cleese and Graham Chapman, who later in the decade would be among the founders of the groundbreaking Monty Python.
Mr. Hendra formed a comedic partnership with Mr. Ullett, the two "purveying a nightclub-accessible form of the then fashionable political satire launched by 'Beyond the Fringe' and 'That Was the Week That Was,'" as Mr. Hendra put it in a 1998 article in Harper's Magazine, name-checking two pillars of late-'50s and early-'60s British comedy. In London they shared a bill with the American comic Jackie Mason, who offered to help them give New York a try.
In 1964 they did. One of their first appearances was at the Greenwich Village club Café Au Go Go, opening for Lenny Bruce.
"And a delightful introduction to America it was," Mr. Hendra wrote in the introduction to "Last Words" (2009), his friend George Carlin's memoir, which he finished after Mr. Carlin died in 2008. "The third night of the gig, undercover N.Y.P.D. cops arrested Lenny as he came off stage — allegedly for obscenity but as likely for being too funny about Catholics."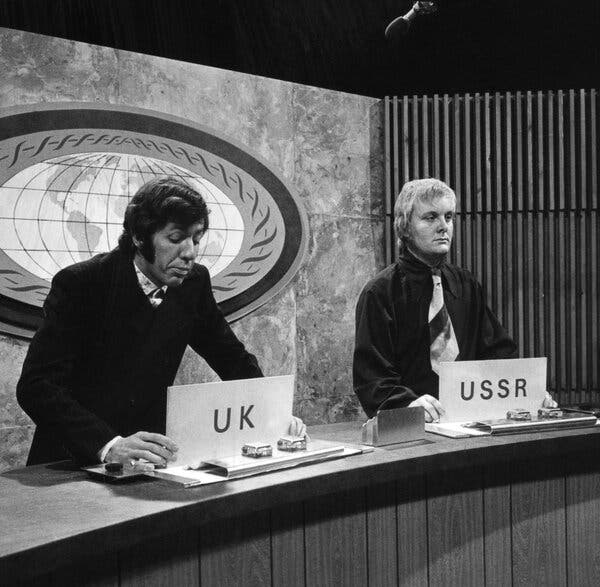 Mr. Hendra and Mr. Ullett worked the comedy circuit for the rest of the 1960s, often bombing in clubs outside New York, their droll British sense of humor not meshing with sensibilities in places like Dallas and the Catskills. They also turned up on television, including on "The Ed Sullivan Show."
"It's a legendary show, but for comedians it was like playing a mausoleum," Mr. Hendra said in a 2009 interview on Don Imus's radio program. The audience was full of "Long Island car dealers and their wives" who were too uptight to laugh, he said, as was the host.
"We used to call it the night of the living Ed," he said.
Hendra & Ullett never made it into comedy's top tier, but the two worked regularly. They even appeared in a musical version of "Twelfth Night" at the Sheridan Square Playhouse in Manhattan in 1968, Mr. Hendra as Sir Toby Belch and Mr. Ullett as Sir Andrew Aguecheek. "Mr. Hendra's bluffness and the wraithlike woebegone simpering of Mr. Ullett had quality," Clive Barnes wrote in The Times.
Seeking a steadier income, Mr. Hendra abandoned the comedy act in 1969 to try his hand at television writing on the West Coast. He had two moderately successful years, writing for "Playboy After Dark" and "Music Scene," but when his manager got him a high-profile job writing for a coming special sponsored by Chevrolet, he torpedoed his own career. He was "deeply into the burgeoning environmental movement," Mr. Hendra wrote in Harper's in 2002, and decided to take out advertisements in Variety and The Hollywood Reporter in the form of an open letter to James Roche, chairman of General Motors, scolding him for the company's record on pollution.
"I was flooded with supportive calls from Hollywood's nascent left," he wrote, "and I was finished in network television."
He headed back East and into his stint at National Lampoon.
The magazine was founded in 1970 by alumni of The Harvard Lampoon, and Mr. Hendra wrote for it from the beginning. In 1971, he was made managing editor, and he remained at the magazine for much of the decade. It was the Lampoon's most fruitful period, and Mr. Hendra helped turn it into a franchise, with books, record albums and more.
In 1972 he produced, directed and helped write "National Lampoon's Lemmings," a revue full of rock parodies that ran at the Village Gate in Manhattan. The idea, Mr. Hendra wrote in Harper's, was to stage the show just long enough to record a live album, since the first National Lampoon album, "Radio Dinner," had met with some success earlier that year.
Instead, "Lemmings" became an Off Broadway hit. Among the cast were Chevy Chase and John Belushi, still three years away from becoming household names as part of the original "Saturday Night Live" troupe. Another cast member was Christopher Guest, who 12 years later would take rock parody to new heights as a writer and star of "This Is Spinal Tap," Rob Reiner's deadpan fake rock documentary.
In that film, Mr. Hendra played Ian Faith, the not-terribly-competent manager of a heavy metal band that was struggling to draw crowds on a tour. (He tells the band the cancellation of a Boston concert isn't a big deal because "it's not a big college town.")
Mr. Hendra was the last editor in chief of the initial incarnation of the satirical magazine Spy, holding the position for about a year before the publication folded in early 1994. He was not involved in the magazine's revival later that year.
Mr. Hendra and Ron Shelton wrote the screenplay for a 1996 boxing comedy, "The Great White Hype," which starred Samuel L. Jackson, Damon Wayans and Jeff Goldblum.
"With a gleeful script by Tony Hendra and Ron Shelton," Janet Maslin wrote in her review in The Times, "not to mention a gamely funny cast, this raucous film comes close to what it's after: delivering a race-conscious 'Spinal Tap' for the world of sports."
After the fallout over "Father Joe," Mr. Hendra kept a low profile, although in 2006 he did publish his first novel, "The Messiah of Morris Avenue," about a not-too-distant future in which the religious right is running America.
He married Judith Hilary Christmas in 1964; they divorced in the 1980s. In 1986 he married Carla Meisner. In addition to her, he is survived by his daughter Jessica and another daughter from his first marriage, Katherine; three children from his second marriage, Lucy, Sebastian and Nicholas; a brother, Martin; two sisters, Angela Hendra and Celia Radice; and four grandchildren.
Mr. Hendra lived in Manhattan. Carla Hendra said he loved his adopted country and even during his illness, which causes loss of muscle control, remained engaged in politics. One of his last smiles, she said, came when he learned the results of the presidential election in November.
"He was an immigrant who sailed from London into N.Y. Harbor on the SS United States after being given free passage in exchange for performing stand-up," she said by email. "What was to be a two-week visit became 57 years, because he believed in the promise of America."